_______________________________________
I don't care WHAT it says above this line, it's an ADVERTISEMENT
It's there because this Tripod account is FREE
_______________________________________

DAVID CURTIS BISHOP ~ Class of 1967
February 20, 1948 - April 29, 2006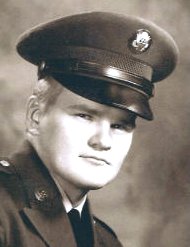 ~


For this I bless you most: You give much and know not that you give at all. -Kahlil Gibran, The Prophet - "The Farewell"


David Curtis Bishop passed away in the presence of his beloved family in the early morning hours of
Saturday, April 29th, 2006. He was born to Curtis and Ruby Bishop on February 20th, 1948 in
Richland, Washington. He was baptized at the Methodist Church in Lewis Town, IL. He grew up and
remained in Richland throughout his life. He graduated in 1967 from Richland High School. He was
proud to be a Bomber and proud of his RHS family members. He joined the Army, served a tour of duty
in Vietnam and earned a Bronze Star for his service. He worked for and later purchased Ganzel's
Barber Shop. He worked at Ganzel's until his failing health would no longer allow it. He eventually
sold his beloved shop to his employee and good friend, Jordan Sedgwick. He was a member of the
American Legion, Veterans of Foreign Wars, the Fraternal Order of Eagles, the Loyal Order of the
Moose and the U.F.C.W. He sponsored many youth baseball teams. He never spoke of his own
accomplishments but bragged about those of his family.

The doctors told us his heart was weak, but we only knew it to be strong and full of love. Diabetes
took his legs but we always knew he would walk a mile for us without asking how or why. As his
health failed, his shoulders slumped, but his spirit never wavered. As his life changed
immeasurably and his body grew weaker, he appeared stronger than we had ever known him to be. He
was always thinking of us and our lives rather than the struggles he faced daily. For three long
years he persevered and fought against multiple illnesses. He demonstrated courage and resolve. He
taught us lessons about life and living we would never know without him. He will be missed more
than he will ever know.

As David adjusted to his losses as a result of his illnesses, he made many transitions through
various assisted living and rehabilitation centers. For the most part, David tried to keep his
sense of humor as he learned to adjust to his new living situations and diet restrictions. As his
family and staff learned, one sure way to fire him up was to put peas on his tray or send him with
a cheese sandwich in his sack lunch. Many a late night phone call to his sister was made and it is
surprising he never started any food fights.

David is survived by his mother, Ruby Bishop, his brother Larry Bishop ('61) and wife Evelyn, his
sister, Nancy Bishop Maynard ('69) and husband Allan, his brother Randy Bishop and wife Nyda and
his aunt Opal Heaton. Also surviving David are his many nieces, nephews, great-nieces and great-
nephews. He had so looked forward to the birth of two new great-nieces, twins, within the next few
weeks.

David is preceded in death by his father, Curtis Bishop, his brother, Virgil Bishop ('64-RIP) and
his great niece, Paige Elizabeth Smith.

David's family wishes to express their gratitude to Dr. Whitson, Dr. Jamali, Dr. Abed, Dr. Scovazzo
and Dr. Onuorah and staff at the Tri-Cities Kidney Center. We also wish to express our appreciation
to Dial-A-Ride staff, who without fail, made even the worst of trips pleasant with their kind words
and deeds.

In lieu of flowers, memorial donations may be made to the American Diabetes Association, P.O. Box
1131 Fairfax, VA. 22038-1131.

David's service will be held on Sunday, May 7th, 2006 at 2:00 pm at Einan's Funeral Home in
Richland, WA. Graveside services will follow at Sunset Memorial Gardens. Visitation will be held
Thursday and Friday, May 4th and 5th, from 5:00-8:00 PM, and Saturday the 6th from 4:00-6:00 PM,
all at Einanís Funeral Home.