Future Class of '67
Lewis & Clark Elementary
Second Grade ~ Miss Hartell
Click on the picture to see just the smiling - larger - faces.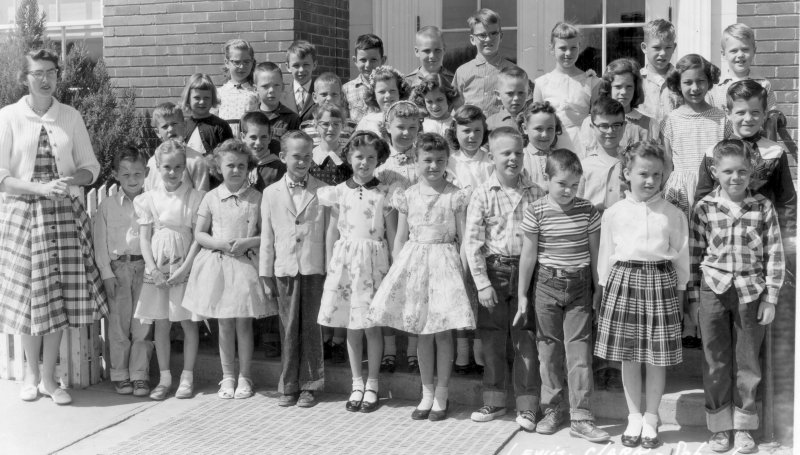 Miss Hartell's Second Grade class - 1956-1957
Picture provided by Marilin Greenwell Wolford.

Future class of '67

BACK ROW: 1._______, 2.WesMontgomery, 3.John_____, 4._______, 5.JeffFunderburk, 6._______, 7._______, 8._______.

ROW THREE: 1._______, 2._______, 3.DennisHuesties, 4.SandySomdahl, 5.CarolynBattershell, 6.JohnHammer, 7.LynnWheeler, 8.SharonParker.

ROW TWO: 1.DavidPearson, 2.TomColley, 3._______, 4.KarenCrowder, 5._______, 6.MarciaWade, 7.FranklinLong, 8.DonWorkman.

FRONT ROW: 1.MissHartell, 2.JohnOrgille, 3.PeggyEikum,4.ElaineKing, 5.LinusToland, 6.MarilinGreenwell, 7.AllisonJenne, 8.ScottBeyer, 9.BrentVanReenan, 10.SusanStutheit, 11.SamLong.

E-mail the webmaster with row and # if you can fill in any of these blanks.



Class of '67 Home page
Class of '67 Grade School Pictures page




Page started: 03/15/08
Page updated: 09/17/16
Email the webmaster
67LC2nd-Hartell